Automobile: In China, the Chery Army sounds-off online
Recently, US based
Nielsen Buzzmetrics'
Bill Stephenson wrote about China's
Chery
Automobile on his
Automobuzz
blog, saying that while there are few messages on BBS (online message boards) in the US about Chery for now, he expects that this will change when the car makes it expected debut in the US within the next couple of years. He advised US based automobile brands:
I know many OEMs in North America are anxious about the arrival of this vehicle to the U.S. I've heard comparisons of Chery to Hyundai's arrival in the U.S. and considering the gains that automaker has made (most notably in the last few years), it makes sense to stay close to consumer reaction to these future imports.
He also cites a
hot conversation
about Chery vehicles on a Malaysian BBS sites as one example of the type of conversations that may occur.
Taking a look at Chinese BBS, I think we can find even more interesting insights for those interested in learning more about consumer perception of the Chery brand.
In our review of a set of 1,200,000 automobile messages in July, we found that there were 7025 mentions of Chery's
QQ
minicar, compared to Buick's Sail with 2714 and Chevy Spark 1105 mentions. QQ beats its closet competitor Chevy Spark by almost 700% (see
here
for GM's concern about how "close" is to close).
If you want to find the real home for QQ fans, however, you should go to
MyChery.net
where you will find "Chery's Army" (新奇军). Here are some pretty amazing stats about this forum which started in April, 2003.
Members: 23,450
Number of total messages posted to date: 7,682,203
Average number of posts per day (our estimate): 9,000
Number of new members per day (our estimate): 120

As a brand, can you imagine being able to listen in on 9,000 comments from 23,450 of your biggest fans every day? If you are Chery, you can do that at Mychery. You could also watch Chery related forums on
Xcar.com.cn
(I mentioned this in a previous
post
), as well as
Auto Sohu
,
Auto PConline
,
Autohome
, and
Che168
. If you want to monitor other brands, they are all there as well, including fan sites for other models like
Polo
,
Bora
,
Tiida
and many others. All told, we estimate there are 3-5 million consumer messages a month on automobile related Chinese BBS sites.
What is driving Chery conversations, especially those about Chery
QQ
? One big element behind all the buzz is a nationalistic pride in one of China's automobile brands already exporting around the world.
Here
is one example:
I love my home town, my country, my army friends [New Chery Army], and Chery! I hope China can be a powerful auto producer soon!
Like some kind of sport, QQ fans who travel around the world excitedly share sitings of Cherys being sold in other countries.
Similar to many online communities, the passion for the car which instigates the relationships drives these relationships offline as well.


Here you see QQ fans share contact info with each other (this conversation received 60,000 page views and 299 replies).

Here
, you see QQ fans attending a fellow QQ owner's wedding: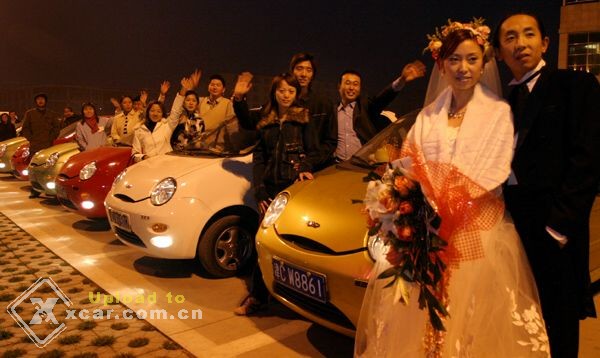 In the end, "value for money" is a big driver for QQ buyers. In China, you can get the car for around US $5,000 with many of the same features as more expensive, comparable models, and with decent quality. As one of my Chinese colleagues told me, Chery's cars like the QQ make the "American dream" (his words) of owning a car more attainable.
So what can US automakers learn from these conversations about Chery? For one, while Chinese brands may not have the greatest reputation for quality overseas, the quality, at least for Chery, is "good enough" to support intense passion of even the savviest Chinese online consumers. You won't have so many fans if the product sucks, nationalism or no nationalism.
Automakers can also learn very specific details about user experience and opinion.
One poster
here
complains about engine problems:
My QQ has engine cuts out without warning after only half a year. The problem even occurs when I simply make a turn. What kind of car is this?
They also
share
motivations for why they buy QQ:
I bought Chery QQ because of its high value price, rather than patriotism.
Text mining of millions of messages (such as what we do at CIC data, please pardon the shameless plug) can provide systematic, detailed analysis and consumer insight about Chery as well as any other make and model sold in China. For example, when mentioning QQ, what are online consumers talking about? What percentage of conversations discusses accessories, pricing, quality etc.? When they talk about these things, is the sentiment positive or negative? What is the most outstanding accessory in terms of buzz volume and sentiment? With text mining, you can find out.
So the question is: Will Chery and Visionary Vehicles be able to create the same kind of buzz and passion in the US? Certainly, Chinese nationalism won't help sell cars in the US. But if they are smart, they will find some other unique passion point for the car such as "value for money" (or simply, a good, cheap car), and position it as a no-nonsense, practical car sort of like the Beetle was for my parents generation or the Honda Civic was when I was growing up. Doesn't every generation need a Beetle or Civic? See
here
for more thoughts along these lines.
Chery has been successful in creating a brand with strong buzz in China. There is no reason why, with the right partners in the US, Chery can't be successful in the US. Haier, and especially Lenovo, have made inroads in the white goods and computer industries (see
here
and
here
for more on this). Why not cars? If American automobile makers aren't listening to the Chery army in China, perhaps they should be.
Related articles:
China Daily:
GM charges Chery for alleged mini car piracy
Seeking Alpha:
The Next Auto Invasion is Coming - From China This Time
Businessweek:
China's Power Brands
Christian Science Monitor:
Ever heard of Lenovo, Haier, CNOOC? You will.